Patrick Souiljaert author of Stairs for Breakfast
All Events Casting worked with Patrick Souiljaert who has Cerebral Palsy to broadcast his live Authors Talk on Youtube. An inspirational talk by Patrick on his life and publishing his first book.
"Successful people take chances in life. A few years I embarked on an amazing journey, which has led me to writing my autobiography and becoming an inspirational speaker. From an early age I knew I was going to do something extra-ordinary in life."



In May 2018 we broadcast live from The Business Show @ Excel,  interviews with 14 Keynote Speakers.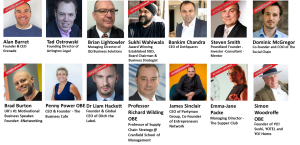 Interview with Simon Woodroffe OBE @ The Business Show 17th May 2018
Simon Woodroffe talks to us about how he got his YO! and we find out that you don't have to be young to become an Entrepreneur and find that spark moment to change your life.