LIVE STREAMING SOLUTIONS
From one person to discussion panel webcasts, to conference broadcasts, our solution delivers the technology and experience required
From £775 +VAT / Day
Our Service includes:
Branded design of your streaming interface
Integration with your Presentation (i.e PowerPoint including animations)
Multiple Video Cameras
Radio Microphones (Lapels / Handhelds 5 channels)
Studio Broadcast System for video switching / mixing and streaming
Managing remote presenters and presentations.
Interfacing with your live conference system i.e Skype for inclusion of remote presenters from anywhere in the world
In-room integration to display remote presenters whilst presenting live.
Interactive Q&A's, Polls, using systems like Mentimeter accessible by all devices.
Audience engagement using service like Microsoft Pulse.
Presentation / Feedback comfort monitors for presenter(s).
Secure linking to your in-house broadcast system i.e. Skype Meeting broadcast
Pre-testing of your system and working closely with your IT Team to ensure reliable broadcasting
On-site or off-site broadcasting, with option to use 4G where available. (A small data charge will be added)
(Additional reasonable costs cover use of 4G data if required, travel, parking and accommodation where required pending your requirements and are negotiable)
Broadcasting live video to your audience increases Engagement & Trust.
Let people see YOU, interact with YOU, believe in YOU, trust YOU to build their confidence in your messages, services, products and business. Customers / Staff are much more engaged with live interaction.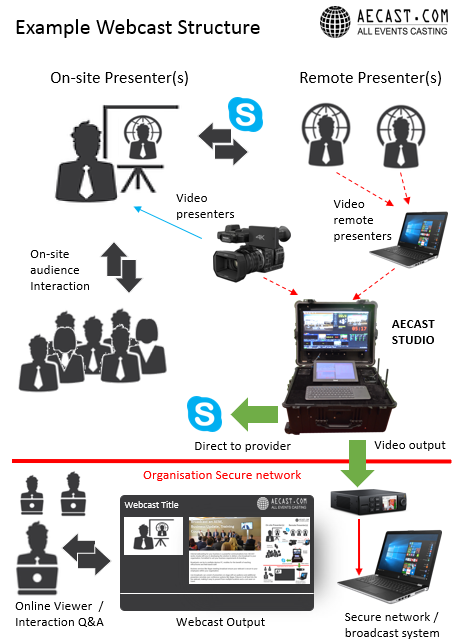 Broadcasts can consist of presenters on stage with an audience and additional presenters remotely over conference systems to feed into the live online stream, making it easy to present and share information from multiple locations.
Business services like Skype Meeting Broadcast, ensure your webcast is viewed securely by your employees within your organisation.
With the webcast being viewed on multiple devices, desktops, laptops and mobiles brings the benefit of reaching all office / home and field-based employees during the live webcast and afterwards via on-demand video of the event.
All Events Casting works closely with the communications team in building an engaging live broadcast to your employees, enabling them to interact with the presenter(s) via live Q&A, online discussions, polls and action audience emotion to deliver an informative, memorable webcast to your staff.
Employee Engagement/Emotion
During a live webcast it is essential to keep your audience engaged ensuring they are part of the broadcast. Watching a broadcast for 40+ minutes needs to ensure the audience remain focused at all times and you do not experience a fast audience decay rate.
Webcasts need to be planned in advanced and split into sections that change the topic focus every 10-15 minutes, including videos to break up the talk or a forum/discussion keeping the audience interested and aware.

The audience needs to participate and shape the flow of the webcast  by submitting questions & answers either in the room or online, taking part in polls and surveys related to the topics as they progress.
Most importantly, the audience emotion can be displayed back to the presenter to action the narrative and tone to deliver greater engagement. The emotion measure is fed back at regular intervals via graphical display to the presenter with attendees selecting from a scale of agree to disagree using PC, laptop and mobile devices.
The ability to adapt the webcast to audience behaviour ensures they have received the message and focus of the presentation/event.